Accreditation Compliance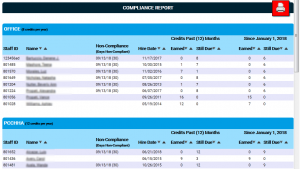 Home Healthcare accrediting organizations and government payer sources require employers to provide Home Health Aides with at least 12 hours of In-Service training every year. Delivery of the training is only half the battle. Tracking all aide's training progress and providing proof compliance is generally very time consuming and expensive. Non-compliance can lead to loss of accreditation. 
STARR simplifies the tracking and reporting process with integrated tools built for the senior care industry. The STARR system keeps track of your employee's training progress and provides warnings for aides who are falling behind. With a single button press all non-compliant employees can be notified via email with wording appropriate to their level of non-compliance
 Aides can even upload training Certificates-of-Completion from their other employers allowing you to accept external credits against your requirements.
 STARR Standard reports provide the compliance evidence your Accreditation service will want.