STARR Online Home Healthcare Portal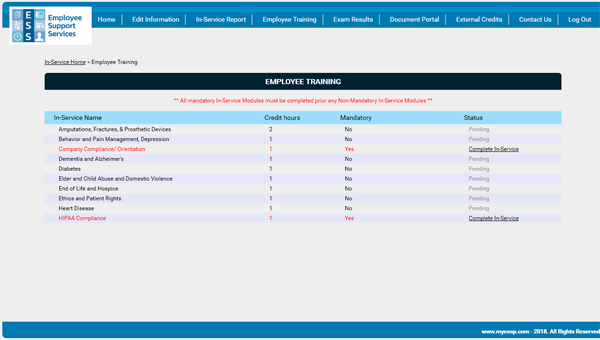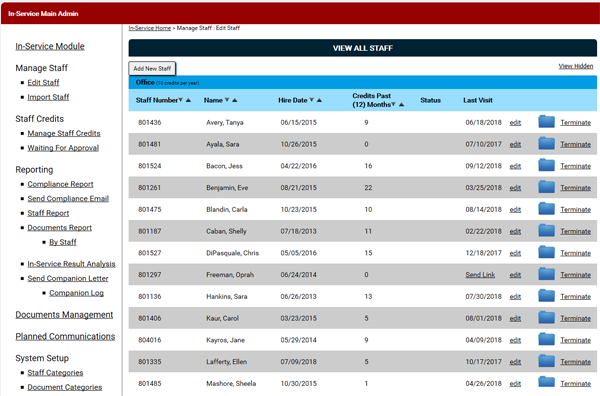 Features for Member (Aides):
Take In-Service training online for free!
Tracking of in-service training (earned both online and offline)
Human Resource Electronic Documents
Features for Employers (Home Healthcare Companies):
Maintain compliance with your Accrediting Agancy's employee training requirements

In-depth reporting and tracking of non-compliant staff
Caregiver compliance is easily monitored and enforced. With a single button press all non-compliant employees can be notified via email with wording appropriate to their severity of non-compliance.
Employees can upload In-Service training Certificates of Completion from other employers for your review and approval so they don't have to retake training.

Offer online Human Resource documents

On-boarding Process is simplified by uploading orientation documents and treating them like all other in-services
Document Delivery to all employees with delivery verification without postage
In-depth reporting and tracking

Streamlined on-boarding of new employees
Integration with Human Resource (HR) software
Daily communication system with employees (reminders, required duties)
Customized In-Service Online Learning

Each In-service module collects quality stats to monitor for confusing or poorly worded training material or test questions

Compliance Support with State and Federal Laws

New Jersey's Board of Nursing requirement on sending companion letters is simplified
Employee Communications Tool Provides unique Support for Live-In Employee labor law compliance.