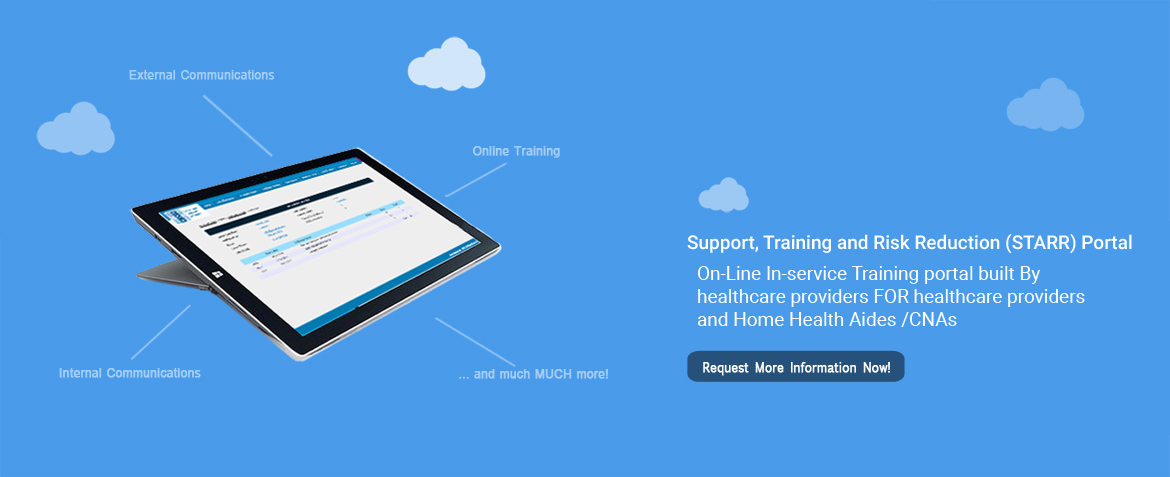 [mp_span_inner col="4″]
[mp_heading]
STARR Portal
[/mp_heading]
The Homecare industry is growing up and governments are imposing more and more requirements on healthcare companies. More states are requiring Home Health Care Companies to be accredited. New Jersey added this requirement to Home Health Service Firms effective July 1,2019.  Being Accredited means all Home Health aides must have annual in-service training to be employed.
Employers use the STARR Portal to:
Provide In-Service training material to all their employees to meet Annual training requirements.
Provide Automated On-Boarding Orientations to New Hires with testing to verify comprehension.
Deliver required documentation to employees and maintain electronic proof of delivery.
Survey employees anonymously to improve employee engagement, measure job satisfaction, get feedback on benefits, etc.
Home Care & facility specific employee communications tools to reduce operational risks.
Satisfy special state and federal requirements involving employee training and patient communications.
Certified Home Health Aides (CHHAs), Certified Nursing Assistants (CNAs) and Companion Aides use this site for free to complete their Annual In-Service training which allows them to maintain their healthcare proficiency and  stay compliant with State Requirements.
[/mp_span_inner]
[mp_span_inner col="4″]
[mp_heading]
For Employers
[/mp_heading]
The STARR Portal provides On-Line In-Service Training for Certified Home Health Aides (CHHAs) and Certified Nurse's Aides (CNAs). STARR reporting allows employers to quickly assess the training status of all employees. STARR communications tools allow employers to easily notify all employees when they are delinquent on training.
STARR tools support Accreditation training requirements and can also be used as a cost reduction training program for Worker's Compensation Insurance.
The STARR Portal comes with all the necessary training modules to be compliant. However, if an employer wants to add something unique they can upload their own media files and create their own in-services. This is great way to streamline your New-Hire Onboarding process (make the New-Hire Orientation an In-service and add testing to verify comprehension).
Employers can also upload documents for delivery to employees-you will have proof that the documents were delivered (frequently required by Government agencies). All without any postage costs.
Are you worried about the financial risks associated with providing Live-In Care (as caused by the Federal Department of Labor 5 hour sleep ruling)? STARR Portal has a solution for that as well.
Find out what STARR can do for your business!
[/mp_span_inner]
[mp_span_inner col="4″]
[mp_heading]
For Aides/Assistants
[/mp_heading]
Tracking your continuing educational credits can be a hassle to say the least. Certificates of Completion kept in paper files always seem to have a way of disappearing when you need them! Proving compliance to a current or potential employer can be a challenge. Your past employers have no incentive to provide you copies of your Certificates-Of-Completions. What if you had a central place to keep all this information permanently?
What if you could even use this same place to acquire new educational credits? Welcome to the STARR Portal.  Whether you are seeking employment or are already employed, this site is for you! Take a few minutes to find out all the benefits of signing up now! (Hint: One of the biggest benefits?  IT'S FREE!)
[/mp_span_inner]